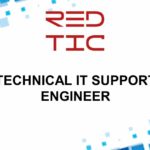 RED TIC
Mission : 
Accepting shipments and storing them in the warehouse
Inventory of assets.
Patching of cables.
Checking power & Connectivity status during outages.
Fault reporting and followups with local Telco & ISP.
Providing remote access via laptop /Mac to AT&T engineers.
Racking and stacking of network equipments.
Wireless Access point support.
Performing Compliance checks on LAN room.
Support structured cabling in LAN room.
Assisting Scrapping process.
Site survey.
Requirements :
A mid level Technical IT support engineer who understands Microsoft OS and Cisco basic.
language skills required : English and French fluent